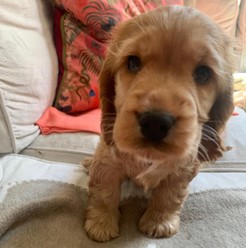 Photo courtesy @jannekediemel
If the return to the office is stalling in your organisation, surely anything you can do to encourage people to come in, and to feel less stressed when they do, has got to be a good idea. With the phenomenon of lockdown puppies, many are now finding that leaving their furry friend at home is one of the biggest barriers to going back to the office. During lockdown people enjoyed having their dog around to keep them company, help relieve the stress of a zoom-filled day and to make them get up and exercise. Many people don't want to lose this and having invested emotionally with their pet during this time, they are not prepared to give it up. So many organisations are opening their doors to dogs as a way to show their caring side and that they understand the concerns and stresses of their employees.
The city law firm, Hogan Lovells, tried tempting their troupes back in with curated puppy days provided by the animal therapy provider 'Paws at Work'[1]. The developers of the recently opened smart office building, 22 Bishopsgate, decided that all floors would be dog-friendly. This is part of their vertical village strategy for the building which has community and socialisation at its heart. Their co-work space even has doggy treats (see photo). The insurance company, Fidelis announced that their decision to lease a floor in the building was due to the advanced environmental credentials. But their chairman has added that the fact that it is one of the few buildings in the city that allows dogs was also a deciding factor as it allowed him to bring his dog to work [2].
Doggy station at Convene, the co-work space at 22 Bishopsgate
So, is this a fad to lure the pandemic puppy posse back to the office, akin to free breakfasts and good bags, or is it a permanent transition to a more human-centric working practices? Let's hope it is the latter as a 2019 study by the University of Lincoln revealed that employees who often bring their dogs to work reported 22% higher satisfaction with their working conditions, increased absorption in their work (33.4%), and an overall increase in work engagement by 14.4%. With companies struggling with the cultural element of the return to the office, these figures are more than enough of a testament to the power of puppies. Dogs also have a dramatic effect on perceived stress levels. A recent study found that while there is no difference in the levels of the stress hormone, cortisol, between dog-owners and non-dog-owners, people who brought their pet companions to work have lower self-reported stress at work[3].
As is often the case, American companies have been doing this longer than us in the UK. Amazon's headquarters in Seattle can have up to 7,000 dogs at any one time. They even get their own doggie deck and community dog park, where dogs can run around [4]. Sounds like doggy heaven, but there must be a down-side (think barking, fighting, biting and pooping). HR and building managers up and down the country must be struggling with some of the rules and policies around this. At 22BG, well behaved dogs get their own passes and can then access the building. Some organisations are limiting the number of dogs per day and for others you have to book your dog in, first come first served.
But however organisations can make it happen, it does seem to be a something that is valued and appreciated by employees. So it maybe the case of a dog friendly-policy is for life, not just for Christmas.
[1] Creature comfort grows in return to the office, The Times, 23 April 2022
[2] Amenities and sustainable credentials attract Fidelis to 22 Bishopsgate, Axa.com July 2021
[3] Barker, R.T., Knisely, J.S., Barker, S.B., Cobb, R.K. and Schubert, C.M. (2012), "Preliminary investigation of employee's dog presence on stress and organizational perceptions", International Journal of Workplace Health Management, Vol. 5 No. 1, pp. 15-30
[4] Meet some of the dogs that 'work' at Amazon, February 2022