It's no secret that the working environment is different from how it looked a few years ago. The kitchen table, where employees eat dinner with their family every evening, might also be where they take their MS Teams calls during the working day.
Bereavement, isolation, loss of income, and fear have triggered mental health conditions or exacerbated existing ones. And as remote working blurs the line between work and life, companies have had to start to prioritise employee well-being and mental health. Encouragingly, employers are taking notice.
Wellable published a 2021 Employee Wellness Industry Trends Report in which they highlighted that 88% of employers invested in mental health, 87% in telemedicine, 81% in stress management/resilience, and 69% in mindfulness and meditation. So it looks like companies are moving from gym memberships and free food to more mental health focused workplace benefits.
Let's take humour in the workplace more seriously
There has been an increased number of articles addressing the need for employers to focus on various factors of wellbeing in order to achieve a holistic and sustainable improvement in wellness. These work-specific factors fit largely within four categories: physical factors (posture, nutrition, and exercise); environmental factors (light levels, air quality, temperature, noise), psychological (work load, stress levels, job security) and social factors (managerial and colleague relationships, company culture, community). An important, but somewhat neglected factor in the social section is humour.
Since there's a direct relationship between the wellbeing of employees and their productivity,  surely employers and managers should be doing all they can to help boost the morale of the team. Humour is one of the things you should not forget!
To be fair, the pandemic, lockdowns and remote work were not always something to joke about. However, the return to the office brings a great opportunity to focus on creating and maintaining company culture in person – which should include bringing back a bit of the humour we were all missing.
Humour in the workplace is something that the majority of us use and enjoy instinctively but may be a bit rusty with from the time spent working alone from our homes. There is plenty of scientific research to confirm that humour is good for us. Psychologists Herbert Lefcourt and Rod Martin were among the first to prove that stressed-out people with a strong sense of humour became less depressed and anxious than those in whom it was less well-developed.
"Laughter relieves stress and boredom, boosts engagement and well-being, and spurs not only creativity and collaboration but also analytic precision and productivity." Harvard Business School professor Alison Wood Brooks has also found that cracking jokes at work can make people seem more competent, and who doesn't want some of that?!
Given all the research that shows that lower stress benefits employees and reduces absenteeism, the freedom to laugh at work seems not just good idea, but a necessity. A group of researchers even found that after watching a comedy clip, employees were 10% more productive than their counterparts.
Humour lets people know that we like and understand them, enabling us to build and nurture relationships across hierarchies and even cultural divides. What's more, in workplaces where humour is shared openly, the culture tends to be one that encourages people to be themselves, and the result is a more loyal and productive workforce. Surely this is something that every company should be striving for, especially in this time of the 'great resignation' and the war for talent.
Tip: How to avoid inappropriate jokes?  If you'd hesitate to make a comment in front of a seven-year-old (or your mother), think hard before making it in the office. Every group is different, but in general, it's best to avoid comments that can make someone feel uncomfortable. Keep the humour on the conservative side, and you'll keep your colleagues laughing and not offended.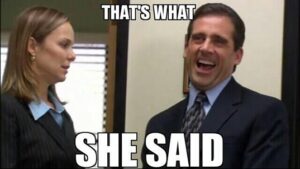 If you're interested in a deep dive into the current thinking on all things wellness, we recommend attending our WORKTECH22 conference focused on Wellbeing, which is taking place on September 20th in London