It is well known that the mental well-being of employees is a crucial contributor to any organisation's success or failure. Mental well-being in the workplace has become more widely spoken about, especially after the pandemic when a lot of people found themselves more stressed, hence losing productivity and motivation. Therefore, with the shift in lifestyle and hybrid working trends, it is important to ensure good well-being both in and out of the office.
In the UK alone, the poor mental health of employees costs up to £45 billion every year. Consequently, this cost can be substantially reduced with good working practices since it will influence productivity growth, absenteeism, and sickness reduction, and improve the attraction and retention of a talented, skilled workforce. In addition to benefits for an organisation, such practices have advantages for employees in particular since it causes overall stress reduction, physical and mental health improvement, focus enhancement, job satisfaction increase, and better relationships with colleagues. Moreover, the study found that companies with positive corporate values and healthy environments increased their revenue by 682% over 11 years, in comparison to 166% growth for companies without such culture.
There are multiple ways to improve well-being in the workplace for both in-office and remote work:
A company can provide well-being awareness programs where employees can upskill about such topics as work efficiency, healthy eating habits, and work-life balance. Also, counseling services can be provided for employees where they would be able to book an appointment with a well-being professional and have a one-on-one session.
Annual mental health weeks or days can be introduced especially after stressful periods. This can be as simple as providing fruits, vegetables, or healthy snacks, giving out easy-to-read books, or even placing smoothy bikes during lunch for employees to rewind and blend their hand-made smoothies. For instance, the company Bell created the annual Let's Talk Day to raise donations for mental health organisations and raise awareness concerning the topic among employees. Another example is Oliver Wyman whose offices are closed on specific days to let employees "recharge". A different approach is to have puppy therapy in the office. Employees can bring their dogs or special mental-health support dogs can be invited.
A business can offer flexible working, where employees can choose their working style and schedule. In today's hectic world, it is important to listen to your employees and receive feedback about their working preferences. Someone is an early bird and has a productivity increase in the early morning, whereas another person prefers to work late at night. This simple difference can already boost productivity.
Out-of-office events can be organised, such as recreational sports teams and competitions, yoga sessions, or pub gatherings. This will also improve relationships in the team, promote a flat hierarchy, and show gratitude for hard work.
Office space can be reorganised to create a more positive and motivational atmosphere. This can be done simply by having break rooms with music, books, games or snack bar, putting more plants and art in the office, and having more natural light.
These are some suggestions, but every company can make something different that fits into their culture. It is always better to talk to employees and receive feedback on what they want and need during work.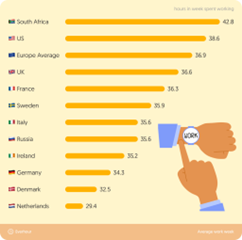 In the UK, People spend 36.6 hours on average at the workplace every week, whereas in some other countries, the number is significantly lower. Comparing it to the productivity levels, it is evident that the Netherlands, Denmark, Germany, and Ireland have much fewer working hours per week but much higher value for an hour worked.  Therefore, every leader needs to make sure that there is no work overload and that a healthy environment in the workspace is prevalent to boost productivity and efficiency in an organisation.
[1] Top Countries by Productivity per Hour Worked – (statisticsanddata.org)
[2]Average Working Hours Worldwide (2022 Statistics) (everhour.com)
[3]Does corporate culture drive financial performance? (forbes.com)